| | |
| --- | --- |
| | |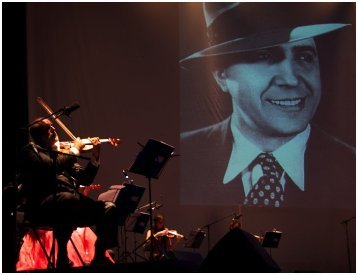 ARCOS DE BUENOS AIRES TANGO SHOW is a chamber music orchestra composed by string instruments (VIOLIN,VIOLA,CELLO AND CONTRABASS ). The prestigious argentine Violinist and Arranger, WALTER OSCAR TEJEDA CARRANZA, is its founder.

From the beggining of his carreer as professional musician WALTER OSCAR TEJEDA CARRANZA has played with several tango orchestras like ALBERTO CASTILLO, DONATO RASIATTI, JOSE BASSO, ATILIO STAMPONI NATIONAL TANGO ORCHESTRA, SEXTETO MENOR, ALBERTO DIGORARO, PRINCES OF TANGO etc.. as solist violinist. He has performed in the most prestigious tango stages like EL VIEJO ALMACEN, CASA ROSADA, HOTEL SHERATON, HOTEL ALVEAR PALACE, LUNA PARK, TACONEANDO, CASTELOVECHIO, CASA DE CARLOS GARDEL, MICHELANGELO, performing with very important singers like ALBERTO "POLACO" GOYENECHE , NESTOR FABIÁN,MARÍA GRACIA and with the famous dancers JUAN CARLOS COPES AND MARIA NIEVES, LOS DINZEL,GLORIA Y EDUARDO etc... On the other hand he has made many recordings for the companies R.C.A VICTOR, SONY, NATIONAL ARGENTINE RADIO.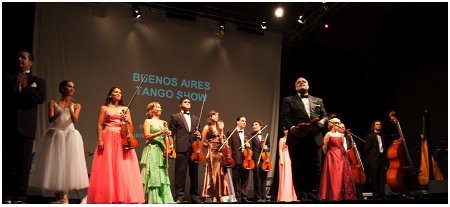 He has been on tour in the Argentine Republic many times creating an UNIQUE ORCHESTRA, ARCOS DE BUENOS AIRES TANGO SHOW, with a unique style and form, raising the esence of the argentine tango to classic levels with the colour and aroma from Rio de la Plata.

They have been introduced in the 9 CHANNEL, ATC, 11 and 13 CHANNEL from the Argentine TV and the company have recorded with R.N.A. Argentina. This company has been on tour around URUGUAY, ARGENTINA, BRASIL,CHILE and VENEZUELA.

Nowadays they live in Spain where they performance in many places like FRANCE, SUISSE, GERMANY, ITALY(TEATRO COMUNALE DI BOLOGNA) in the most prestigious Concert Halls and International Festivals like "BOSFOROUS INTERNATIONAL MUSIC FESTIVAL(Cemal Resit Rey Concert Hall - Istambul)"," OLDENBURG INTERNATIONAL FESTIVAL"," 2nd INTERNATIONAL MUSIC FESTIVAL "INESSA GALANT" (Dintzari Concert Hall - Jurmala, Letonia)" or "ISTANBUL - 2010 CULTURE CAPITAL (Cemal Resit Rey Concert Hall - Istambul)" among others and in SPAIN: the region of Cataluña (ENRIQUE GRANADOS THEATRE of LERIDA), Castilla y León (MAIN THEATRE OF BURGOS), Málaga (ALAMEDA THEATRE), Costa del Sol (BENALMADENA THEATRE,MARBELLA MAIN THEATRE), Cádiz (JOSE MARIA PEMAN THEATRE) etc..

The company ARCOS DE BUENOS AIRES has got many success in all its shows. This success given by public and critic verifies the quality of this show.

ARCOS DE BUENOS AIRES TANGO SHOW is an orchestra that gets over the traditional and classical Tango, rising the Argentine music to the most high level of the chamber groups specialized.